This guide will tell you how to enable a few usefull features for your VM, after you have installed it. Before you follow this guide, make sure to update your system, as described in the Post Installation guide.
Guest Additions from VirtualBox will allow you to enable some very useful features, such as bi-directional shared clipboard (i.e. you'll be able to copy-paste between you host and the VM) and shared folders. Let's get started!
Note: this guide was written using the Manjaro VM, but it is the same for the Ubuntu VM. Where the commands differ, both are provided.
With the VM powered off, go to Settings -> Storage. Select the CD with a plus button next to Controller IDE.
Note: if you still see the Linux ISO under the Controller IDE, remove it! If you fail to remove the ISO, the VM will boot from the Live CD, not from the VM disk!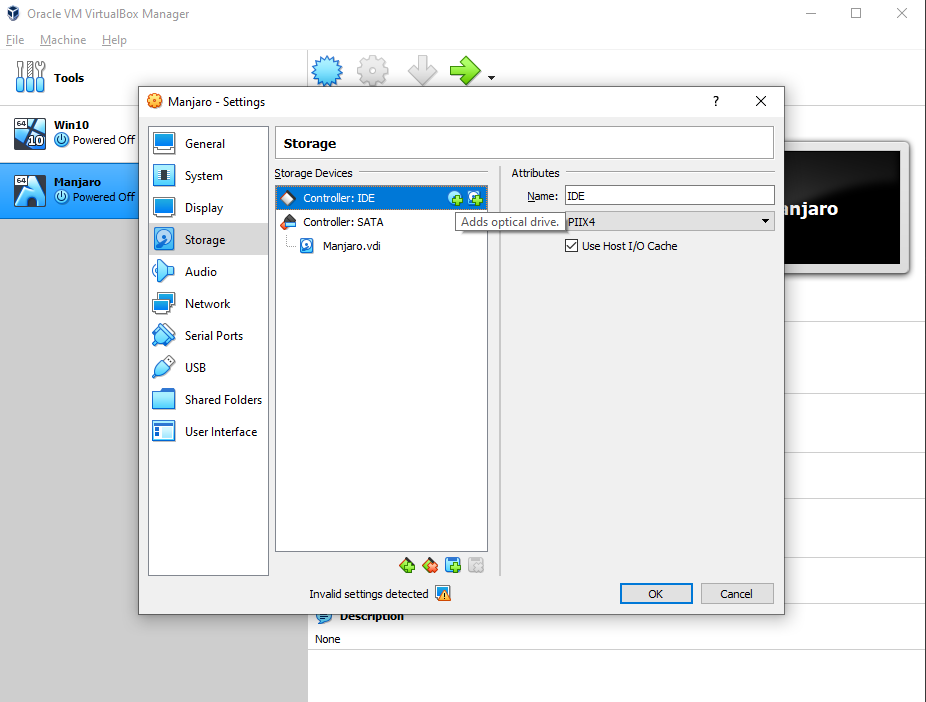 From the list, select VBoxGuestAdditions.iso. Press Choose, then OK. Start the VM.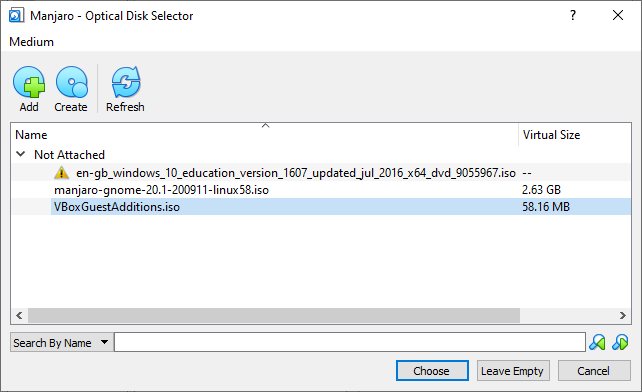 Open up a terminal and install gcc, make and perl:
For Manjaro:
sudo pacman -S gcc make perl

For Ubuntu:
sudo apt install gcc make perl

If you are running in a Manjaro VM, you need to install the linux headers for your kernel. You can confirm the kernel version by running
uname -a

Example output:
Linux neko3-manjaro 5.8.6-1-MANJARO #1 SMP PREEMPT Thu Sep 3 14:19:36 UTC 2020 x86_64 GNU/Linux

So 5.8.6-1 is my kernel version.
Ubuntu installs these automatically, so no need to worry.
For Manjaro (58 matches the first two digits of the uname -a command):
sudo pacman -S linux58-headers

Go to the Guest Additions folder. Replace [user] with your own as needed. (Note that the GA version might have changed meanwhile)
For Manjaro:
cd /run/media/[user]/VBox_GAs_6.1.14

For Ubuntu:
cd /media/[user]/VBox_GAs_6.1.14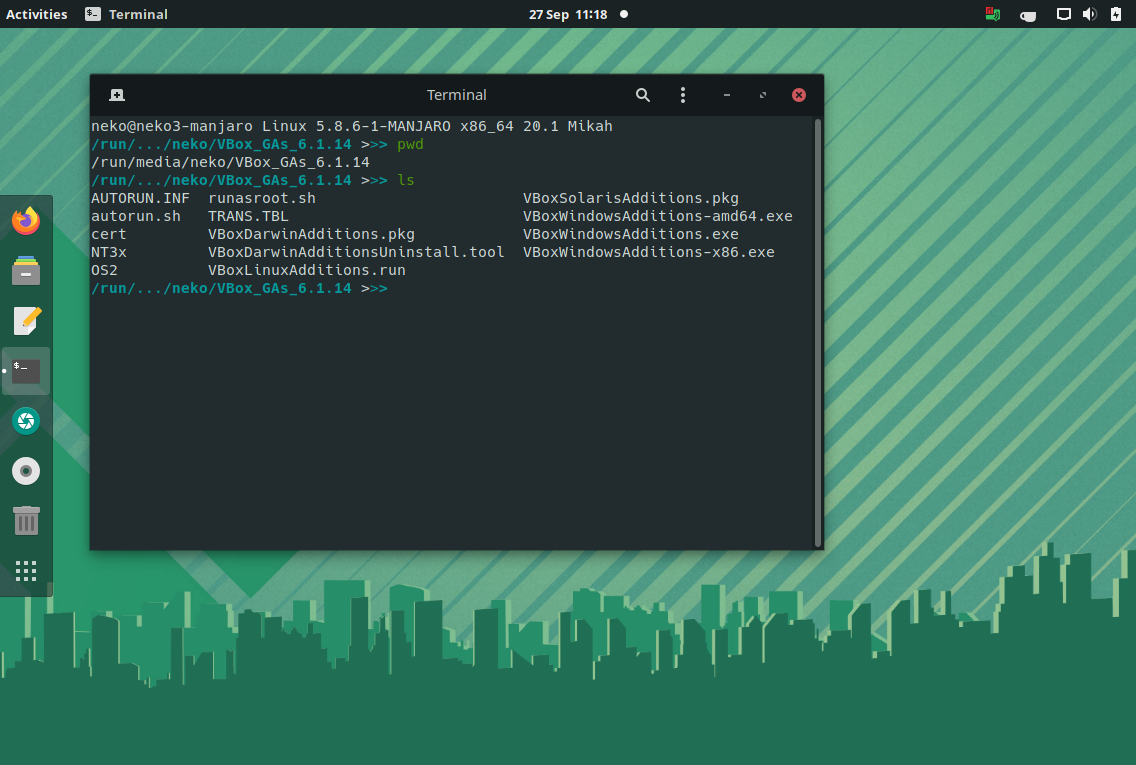 Run the Linux GA:
sudo ./VBoxLinuxAdditions.run

Provide your user password and confirm you want to install by typing yes. It will then finish.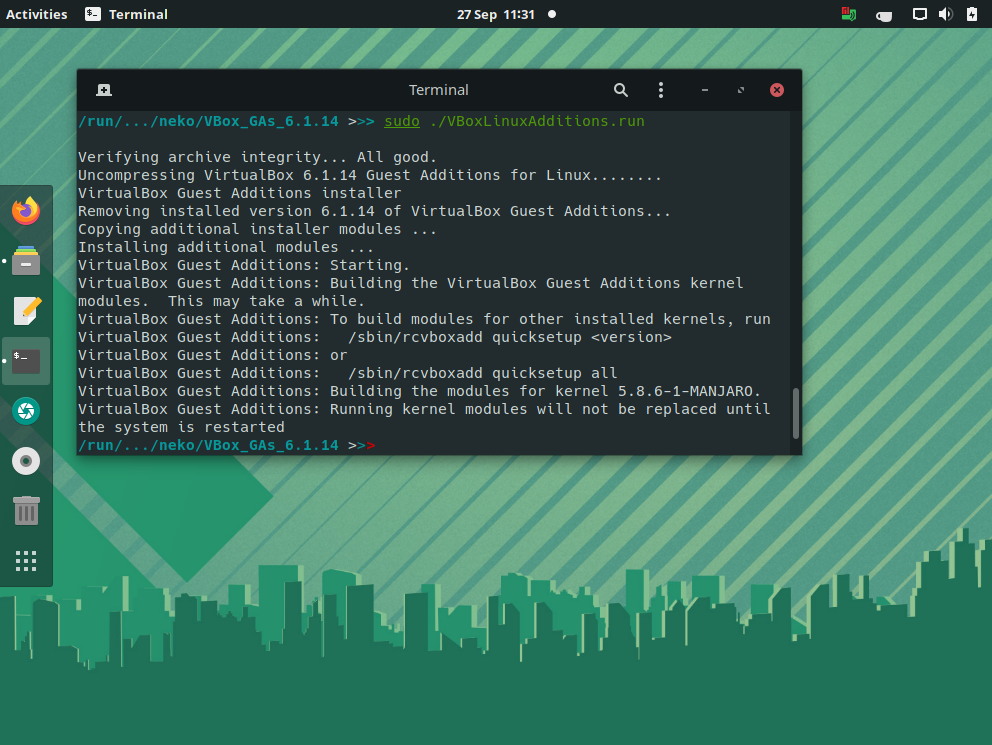 Next, let's make sure to add our used to the vboxsf group, such that we can do shared folders (replace neko with your own username).
sudo usermod -a -G vboxsf neko

Reboot! (You can optionally now remove the Guest Additions ISO from Settings -> Storage)
It's very useful to be able to copy between the guest VM and the host. I usually use the browser on my host machine, and often times I find myself copying stuff from the host to the VM. In order to enable the clipboard, just do to Devices -> Shared Clipboard and choose which one suits you best. I always go for Bidirectional :-) All done, it should just work now!
It's also super useful to have a shared folder between your VM and host. This means you don't have to copy across text or files, they can be seen by both the VM and the host!
In order to setup a shared folder, we'll start with the VM powered off. Now go to Settings -> Shared Folders. Click the folder with plus icon on the right hand side. For the Folder Path box, click the dropdown button -> Other... and navigate to the folder you want to share! In my case, I'll share a folder called docs in my Documents. You can leave the Folder Name as it defaults to, or you can give it a different name. This is how the folder will be named in the VM! You can also make it auto-mount, and give it the path in the VM it will appear under. Remember, in Linux, your home directory is always /home/[your username]. In my case, I chose to mount under the docs directory my home directory. Click Ok until you exit Settings. Now start your VM!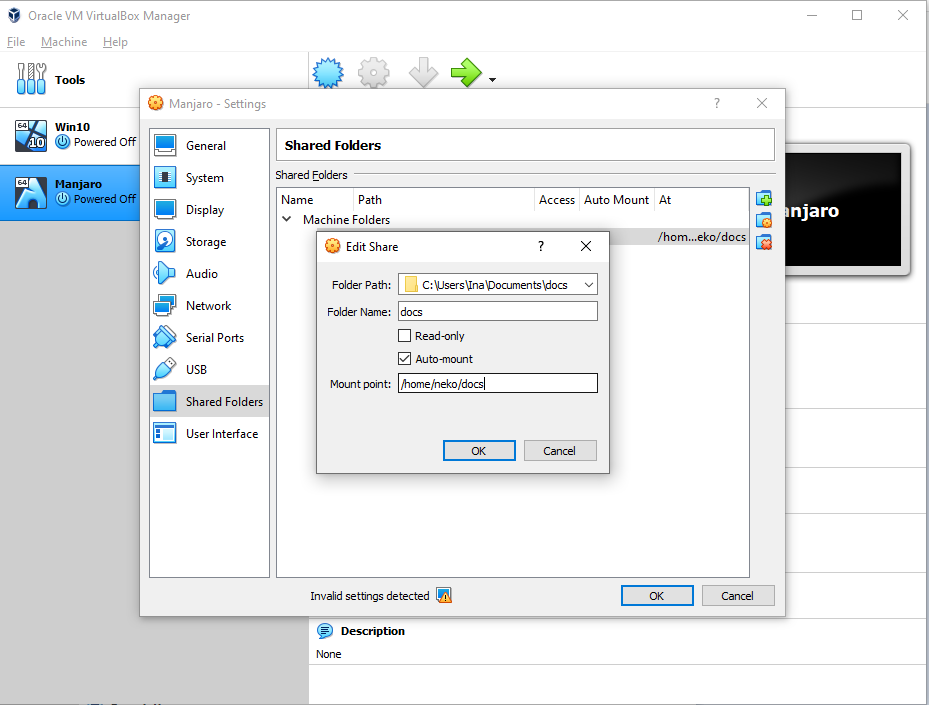 Now you should see your shared folder in your home directory! Congrats!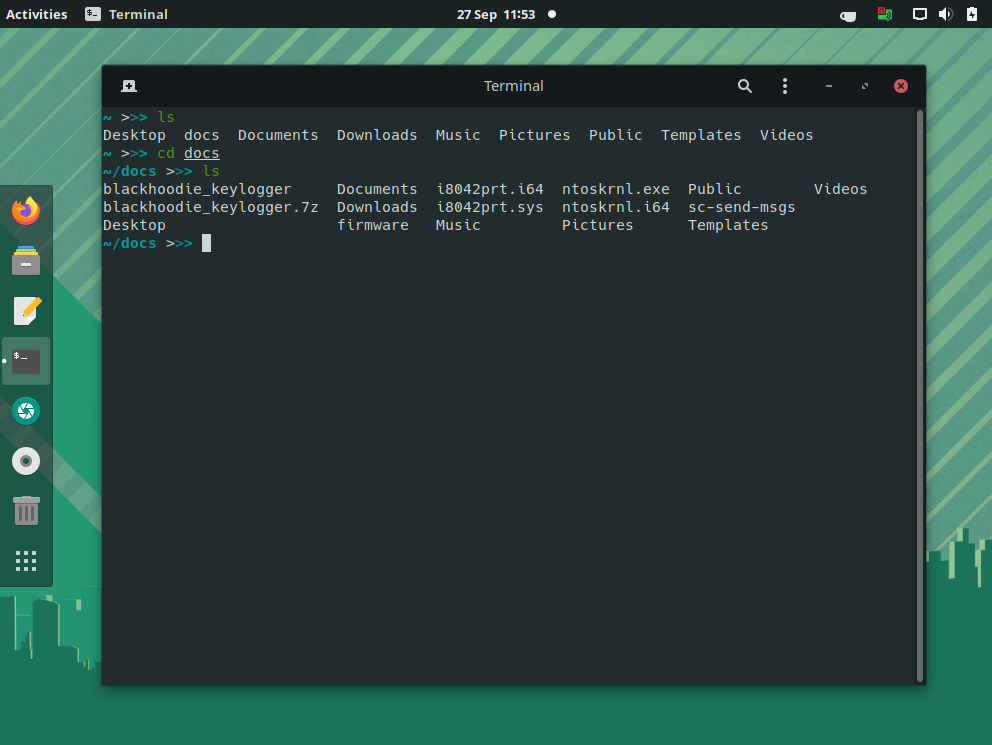 To simulate having a graphics card VirtualBox allows you to set the amount of Video RAM given to the VM. It defaults to really low, so if you're going to use the GUI of the VM a lot it's recommended to boost it to max so the VM is nice and smooth. To do this go into the machine settings, select the display tab and drag the slider all the way to the right.